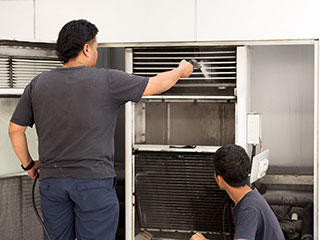 Keeping your ventilation systems clean and well maintained is a challenge for the average person at the best of times. If you've got an HVAC unit, however, you surely have noticed how much more complicated the system is in comparison to regular air vent systems, and naturally, this makes them far more complicated to clean and maintain. That's why we specialize in the cleaning and servicing of HVAC systems of all kinds. So if you need to get yours cleaned, read on and learn what we have to offer. There's no doubt you'll find exactly what you're looking for.
Don't wait for the problem to get worse
In order to continue operating properly, air filtration systems need to be regularly serviced and cleaned to minimalize the gradual buildup of dust and mold particles in their systems. This is particularly true for industrial duct systems, because they usually work in environments with a sizable collection of people. This means they work harder and get filthy quicker which can lead to other problems with the unit itself

Neglecting to perform regular condenser unit cleaning, for instance, could lead to the entire piece needing replacement due to stubborn dirt bogging it down, which could lead to expensive and unnecessary replacement bills. Instead - let us clean it for you. By conducting professional and regular maintenance and cleaning sessions, we can help ensuring that they will stay long lasting and effective.
HVAC maintenance - Keeping your system clean
Keeping your system clean through regular HVAC maintenance could have implications on the health and well-being of those in the office with you. A neglected set up will inevitably lead to higher levels of contaminants in the internal air of your workplace. This means that germs will spread with greater ease, air will become stale, and people will suffer varying illnesses because of it.
So it is undoubtedly a good idea to opt for regular HVAC unit cleaning, because a dirty system can spell disaster for the health conditions of your workplace, or lead to far more expensive problems with the vent. It is good to remember that a unit which is blocked up severely enough will also require more energy to operate effectively. Consequently, you'll be spending more on power bills that you should.
Let us come and have a look at it for you. Our team is highly trained and experienced when it comes to HVAC cleaning. Our prices are competitive and our policies are transparent.