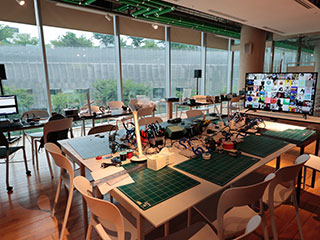 Taking care of customers and employees is essential, and ensuring that the premises of your business are kept in a comfortable and safe condition is fundamental. Providing customers and employees with a comfortable environment is top of any commercial property manager's priorities.
Conscientious professionals will always ensure that trash is tidied up and the building is kept in good repair, but some problems are much harder to detect. Issues with air circulation can be difficult to pinpoint but often result in a building feeling damp, stuffy, too hot or too cold, or even lead to respiratory infections. With air duct cleaning for commercial Berkeley properties like offices, clinics, hotels, and more, you can ensure optimal indoor air quality and a healthy environment.
Why Cleaning Commercial Air Ducts Matters
All modern buildings use a system of air ducts to circulate air throughout the property. This is important because a constant flow of air helps prevent things like mold growing out of sight. It's also the primary method for temperature control, with HVAC systems pushing hot or cold air out to individual rooms through the vents. It plays a crucial part in the comfort of any property but can fall prey to a range of issues. Inside restaurants, all sorts of particles can gradually accumulate inside the air ducts. Restaurants rely on welcoming indoor air quality to maintain the flow of customers. So cleaning the air ducts and kitchen exhaust hood of Berkeley restaurants becomes paramount. You ensure pleasant indoor air quality inside your commercial space and customers enjoy their stay. Cleaning the air ducts can also help your business save money on energy.
Blocked or Dirty Air Ducts Of Businesses
Blockages are a common issue and can be caused by any number of different things. They occur for commercial air ducts as well as ones of private properties. Loose insulation is one cause, and it can quickly obstruct the passage of air through a vent. When this happens, the effectiveness of your HVAC system is severely impaired. It will have to work far harder to keep rooms at a comfortable temperature. This means much higher climate control bills. A commercial business in Berkeley or anywhere else looks to minimize money expenditure wherever possible. Cleaning air ducts helps reduce energy costs, so it's a useful task to have carried out for office spaces as well as hotels and other commercial businesses. Keep your employees and customers satisfied with effective commercial air duct cleaning services done right.
Fast Air Duct Cleaning For Berkeley Area
Any property manager's worst nightmare is contamination spreading through their building. Spores, toxic chemicals, and dirt can all enter your air vents if not regularly maintained, and will be carried throughout the entire building. This can cause respiratory problems for anyone who spends a lot of time in the building, especially those with pre-existing conditions such as asthma. For quick commercial air duct cleaning near Berkeley, you've got a local team to call on. Avoiding these problems isn't hard. Getting the air ducts cleaned a couple of times a year will help you prevent all manner of debris and dirt in the ductwork. When you need air duct leak repair or HVAC cleaning for a local business, give us a call for fast and affordable solutions.