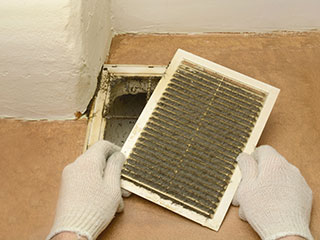 Most homes have a very tiny problem that justifies engaging professional air duct cleaning services. This tiny problem crawls with eight legs and swarms with a few of its friends in dust collecting areas around the house, like say, a bed that you sleep in every single night. This little problem is the house dust mite.
The Small Monster in Your Bed
The dust mite is not actually parasitic and will not cause direct harm to a human. They don't bite nor do they attach themselves to our skin. To be sure, they do cause harm to humans – just indirectly. The skin that they molt and the feces that they expel cause insidious harm to the respiratory tracts of humans. If you're especially susceptible because of your dust allergies or if you have asthma, you'll experience allergic reactions like hay fever. You'll also develop polyps inside your nose. It's not just those who have allergies who are at risk. People who don't have allergies have a high probability of developing allergies when exposed to the allergens that the dust mite produces. Because of these negative health effects, air quality testing needs to become a priority.
One of the best ways of dealing with a dust mite infestation in your home is by engaging professional air duct cleaning services. The air ducts are particularly conducive to dust mite infestation because it's hard to frequently clean them, thus dust will inevitably find its way inside. It's recommended that home air duct cleaning services be done every few years or so but if you suspect that the air you're breathing is compromised because of dust mite infestation, then it would be wise to get our company to take a look-see to verify if this is the case. After your ducts are cleaned, you also need to make sure that your curtains, bed and bedsheets are clean because these are some of the other places in your home that dust mites prefer.